Dan Fallon Fly Fishing Articles 2014
Tap on any of the links below to read my articles from 2014!
Or tap on the image below to read my fictional Fletcher Quill series!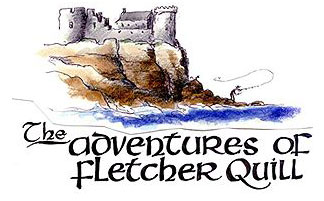 This ongoing fly fiction titled "Adventures of Fletcher Quill" will be updated each month. Quill an international rogue fly tier/fly fisher is usually caught up in one hair brain scheme or another attempting to acquire the rarest fly tying materials that he buys on the black market.
His rare flies are highly sought after by other possessed fly fisher types who covet his one of a kind creations tied with the most elusive feathers and materials he can somehow buy. Fletcher lives the semi solitary quiet life ensconced in his ancient Northern Ireland Castle with his Abyssinian Cat Timba.
Life is never ordinary and guests are usually amazed at the complexity and spirituality that cloaks the castle like tully fog on the wet bogs...