Dan Fallon Fly Fishing Article Column 10 2012
Life On The fly
Most common question I get of late is, "So what exactly is it like to spend all your time, money, energy, waking, sleeping time planning, flying, ECT, ECT in pursuit of fly adventure's?" Ok, Ok, I give up fly Brother's and Sister's sit back enjoy my pathetic confessional. A life time as a fly maniac possessed of rivers, streams and all they contain in every possible way.....
Yes, this fly column in it's's 12 year has allowed my obsession to run it's course unstopped with no vacations from my vacation. Many wonderful way too intelligent woman have come and gone shaking their heads, "He likes Bamboo Fly Rod's and Chalk Streams in Vermont a lot an awful lot!!"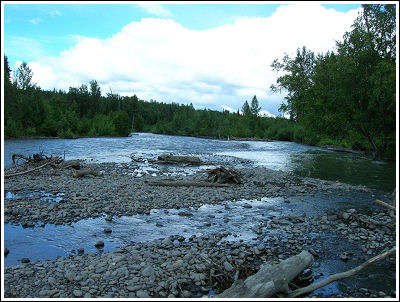 2012 has been resplendent in these kinds of magic moments. While waiting in the Seattle Airport (A truly Great Airport ) An old friend of my more famous departed fly Pal his Honor Walton Powell. Walked up out of nowhere mentioned Walt's Name and a story I wrote a long time ago called, "Lord Of the Flies".
Love to have Walt's name brought up to me and it is often. Of the many famous I have played on streams with, Walt will always be THE MASTER! Walking alone this Fall near one of my favorite Yosemite National Park Lake's , I was stopped cold when a young Fawn started following me obviously having just lost it's Mother, this magic moment has happened many times to me in different forests in Asia, Up State New York and in California. One of the main reason's I stopped hunting in my early forties after a life time in the sport.
While on Poetic wonders that grace my fly life. Another special moment never to be forgotten is looking up in deep Alaska, Lake Marie again on fourth of July this year and watching an adult Bald Eagle circle us for many minutes, the best. On the way to Alaska this year another Marine Vet sat next to me and it was just like being back in Marine green again, splendid listening to his tales of multi tours in hot spots.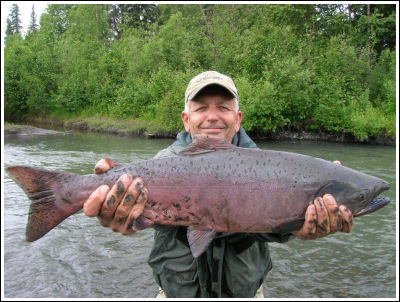 Must pay tribute and Bow to all the Fly lord's who allow me to continue catching and releasing huge Salmon, hard fighting wild fish all over the world for many years. As is well known by reader's of this fly column, it was the mighty Walton Powell who taught me about the incredible tensile strength of expert assembled Tonkin Bamboo Fly Rod's.
I have had the honor and privilege to carry Walt's and many of my own hand made Bamboo fly rods everywhere I roam. No carbon, no plastic, no space age anything. Just Bamboo period. This year many King Salmon over thirty pounds caught and released, a great year ending in my 2012 Alaska Grand Slam.Thanks again Lake Marie special thanks to Big Bad Brad! You rock Dude!
What is it like to lead the fly life? Equipment, travel, people, waiting in strangle little airports in the middle of nowhere. Long flights to places only fish and fly fishers know about. Walking along rivers and streams I have known since boy hood in North America, Asia, Alaska, Canada; Then of course there is the pay off, reason for all the travel, waiting, money.
That smell and sound of wild rivers, streams, creeks is haunting intoxicating, mesmerizing to me now as they were as a boy. Marvel of moving water has never left my consciousness awake or asleep. I often dream of great catch and release moments or wild animal contacts with Bears in Yosemite or Moose in Alaska or Tigers in Asia. Fly life, would trade no other life for this one period.
Written by Dan Fallon © 2012