Dan Fallon Fly Fishing Article Column 1 2011
Flies That Actually Catch & Release Wild Trout!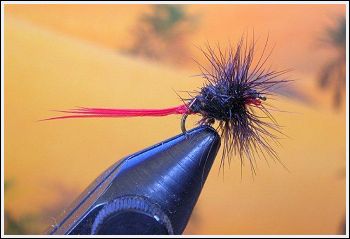 Red Baron
Hook: Barbless #12 to #20
Thread: Black Silk wrapped thick and bushy
Tail: Red America Chucker Tail feathers
Body: Dark Peacock Hearl
Hackle: Black American Wild Wold chest hairs tied extra full
Jeweled Caddis
Hook: Barbless # !4 to # 20
Thread: Green Silk tied tight
Body: Twisted together into tight string Peacock Hearl & Green Jeweled tinsel
Main Wing: American Moose Hair groomed & cut
Wing #2: Two thin brown feathers
These two flies have caught wild trout in Yosemite National Park and many other California creeks and streams. Easy to tie and the colors especially the caddis pattern stimulate hits and catch and release wild fish no question.... Tie several variations in different sizes and watch and learn!
By Dan Fallon 2011