Dan Fallon Fly Fishing Article Column 5 2011
Welcome to the Brotherhood of the Fly
It is with sweet nostalgia and high hopes I welcome a new Brother to the endless search fly rod and feather ever ready to fool catch & release wild game fish wherever they dwell...
13 year old Spencer Smith from El Cajun California, 8th Grader, Baseball Player and his Dad's fly fishing Pal caught and released this outstanding 24 inch Rainbow with out assistance!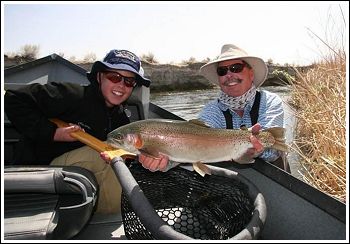 In the company of Master Guide Tom Loe who operates Sierra Drifters Guide Service (www.sierradrifters.com, E-Mail: Drifters@qnet.com.)
And his Father Spencer was cool and calm reports Tom, "He was steady and calm and let the fish run before slowly bringing him in.
"Makes me very happy to hear about young fly fishers having days like Spencer Smith just had. Means this wonderful old sport has plenty of life left and generations coming to become addicted to the endless search with fly rod & fly..."
California fly fishers are ready at the end of April when all streams and rivers are opening up to enjoy a banner Spring as winter snows have been deep and full of water.
Tom Loe has been working the Lower Owens River for twenty five years and knows every hole, rock, hide out, weed beds, depending on skill level he can give you an education while lazily drifting a pretty river full of life and Trout in excess of ten pounds! Highly recommend Tom Loe.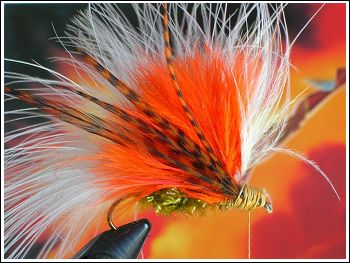 WOLF MAGIC
Hook: #2 #10 Barbless.
Thread: Rough green thick thread.
Body: Thick green chenille.
Wing # 1: Full blown up white groomed Marabou.
Wing # 2: Orange died American wild Rabbit fur groomed, combed.
Wing # 3 : Four matched wild Pheasant hackle feathers tied fan style.
Head: Tan thick thread.
Written By Dan Fallon © 2011