Quality Bamboo
This months featured field tested fly rod is an Orvis Spruce Creek Full Flex 3 weight Bamboo which comes equipped with a well constructed CFO Reel in the Battenkill version. This handsome little six & a half footer came in to my hands via Hollywood and a pal actor who keeps all his rods in a special room with a handmade wall rack next to his pool table.
I spent two days on the waters near South Lake Tahoe California throwing tiny midges and size 16 black stone emerger's and assorted nymphs in moderate to fast water. This rod retails for around $1,800, and it comes with two tips and the CFO reel.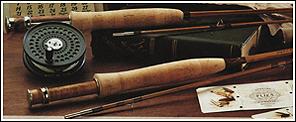 I was in heaven from the start, I always move slowly with bamboo at first. These fine rods never need more then a gentle throw to get the maximum leverage. This rod easily tossed the tiny flies and 3-weight line even in a fairly stiff breeze. After an hour or so, I hooked into a two pound planted Rainbow that gave me a nice thrill.
The rod was very whippy and made me hunger for a little more fight from a bigger fish. I quickly found the groove for 40 to 50 foot casts in light wind. The little bamboo was almost weightless to the feel, funny how I could not take my eyes off of the quality finish and maple wood with nicely sculpted cork swell.
I looked carefully for any defects in varnish or eye raps, found none! The up-locking nickel reel seat is not only well put together, but easy on the eyes. If your the kind of fly fisher who gets serious about light bamboo and the magic of playing fish on a system you can hardly feel in your hands, this it.
I have a soft spot for well made bamboo usually hand made by people who have the time, and know how to do it right. Orvis has been at it for many years. The cane used and the assembly is top notch, eye wraps are even and solid. I would buy this rod or recommend it as a good investment to be fished not hung on the wall.
Contact Orvis at 1800-548-9548 or tap here to visit their website!