Dan Fallon Fly Fishing Article Column 8 2011
Mouse Magic!
Seven days spent chasing King Salmon when available with gaudy large flies at remote Lake Marie Alaska located 100 miles north of Anchorage is great sport!
When the huge Kings are not hitting guides then grab a 5 weight fly rod with various trout, Dolly Varden, Arctic Char attracting patterns.
Possible Grand Slams (catch & release all species in one day!) at Lake Marie happen every day as all species are in the rivers other then Silver Salmon by late June.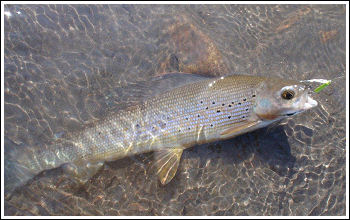 Head Guide Mouse expert Mat Amundson spent several mornings reacquainting me with the skills needed to work the tiny Deer hair Mouse from shore edges, falling with a loud plop and then moving with a nice wide wake as it scurries for shore.
Watching big Rainbows, Dollys, rise up in crystal clear water and slam the Mouse is as much fun as catching, playing and landing King Salmon!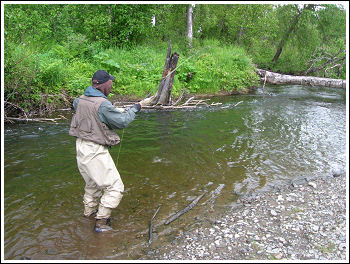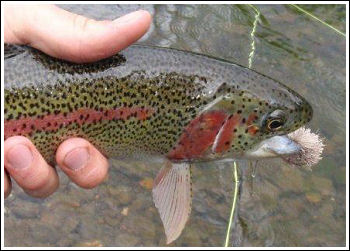 We spent 8 hours on two occasions working the Mouse and releasing many fine fat wild Bows. Absolutely the most fun with a light fly rod, I used my new 6 weight Bamboo I made just for this Alaska trip.
Head Guide Mat is the Mouse Master indeed! He has studied the movements carefully and after about an hour I was hypnotized watching the little mouse...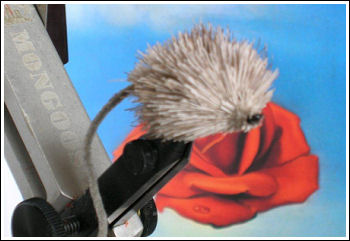 The Mouse photo is Mats Mouse, many photos in part two taken by head Guide Mat Amundson, great job Mat.
Near Drowning Incident
Each morning during the week spent at Lake Marie Mat and I took a Boat and headed out to a new area that included some walking in heavy brush (Grizzly Bear habitat) we yelled and made noise in the brush to warn the animals.
Many rivers and streams were forded to reach the best waters. On day three we forded a fast, deep running river and I slipped and went over my head briefly until I caught the shore brush and Mat was right there and pulled me out just in time.
It was ice cold and I was in trouble for sure. I was wearing new waders a wonderful dear friend Serena Chietti gave me an old Volkswagen Seat Belt that I pulled extra tight that morning.
No question that belt preventing my waders from filling with water. I would have been history. Thanks Serena! Safety so important in remote fly waters. Guide Mat was right there a total pro, thanks Mat for saving Mr. Wolf!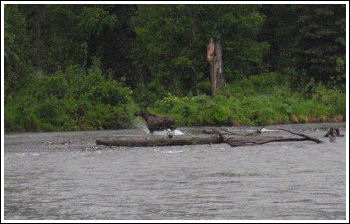 Every morning another Alaskan animal, bird would appear like the Moose encounter on day two. As we stood throwing flies a big Bull pounced up and down 50 yards away letting us both know it was his house!
Trumpeter Swans flew over and Eagles sat in trees watching us work the waters. Beaver Dams everywhere and endless wild fish to chase as the Sun never went down...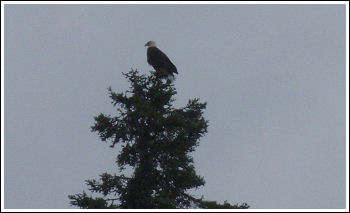 Many moments sharing meals and laughter formed bonds that may last. My Dinner partners included three men from Minnesota, one in particular raised Corn and missed a career in stand up comedy!
An overly educated 13 year old was a constant companion. I helped him plan his life by suggesting life as a Plastic Surgeon living in Hollywood giving Breast Implants to Hollywood Starlets, his Mom will love my career advise.
Among the 21 Wise men two individuals were outstanding outdoors men with interesting histories. A Dentist named Ian and his friend Amir were impressive in their overall fishing skills.
Ian was new to fly fishing displayed excellent fly casting and river reading abilities denoting a life spent as an Outdoors men.
Amir whose personal tale includes fleeing a war torn eastern Europe and becoming a successful American citizen, a wonderful story!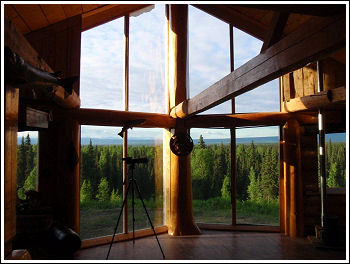 Every time I leave Alaska the same sad feelings come over me realizing how special and unique this place is where the Sun stays up part of the year.
The kind of people like the Wilson Clan who in harmony with the elements and all that is existing in true wilderness succeed and flourish in tough circumstance.
The overwhelming beauty hits everyone, vastness, endless horizons, green everywhere, rivers, streams, creeks full of wild fish! America was once like Alaska, a place of opportunity and abundance.
When I'm walking and fording rivers chasing wild King Salmon the reality of this uniqueness never escapes me. Fly fishermen are in Heaven in Alaska, it has to be near the very top for multi species light fly rod action no question. Wild Rainbows hit hard and fight! Cannot say enough about the Lake Marie fishery, simply outstanding.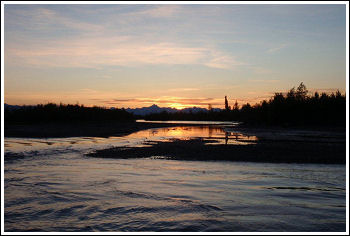 If you're interested in remote Alaska, fly rods, King Salmon, wonderful hospitality and wild multi species opportunities, then I highly recommend Lake Marie and the Pioneer Wilson Clan. Sweet dreams Mother Marie...
Written by Dan Fallon © 2011