Dan Fallon Fly Fishing Article Column 2 2011
Fly Fishing Slovenia 2011
An old friend who has slowly built a fine reputation as the accomplished well traveled Fly Fisher/Guide to contact in Slovenia located in Europe bordered by Italy.
Roc Lustrik www.lustrik.com has been mentioned in this column several times over the years because his addiction to finding, catching and releasing Hugefied fresh water fish is established!
His clients have regular hook ups and leave satisfied. The rivers Roc works, tributaries, small streams that flow into the Adriatic Sea where world class Marble Trout prowl ancient waters provide Roc and his clients infinite possibilities!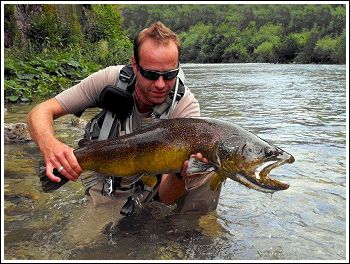 Take a close look at the Marble Trout photo and visualize the native Trout in your country? Do they have the same dark, Plasticine Age appearance? The ferocious jaw and general uncivilized tough look?
Most likely not unless you live in places like Tibet, Mongolia, Northern Japan. In these waters and rivers wild fish exist with these ancient characteristics. As a simple example North American Trout look to my eyes like sleek sports cars highly refined and pretty.
The Marble Trout Rocmeister plays with look like Mike Tyson after he finds out you lied about getting his daughter pregnant fool!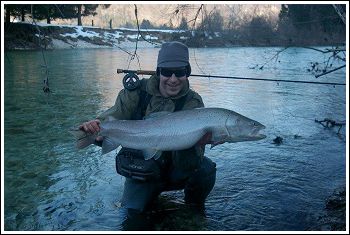 CALIFORNIA TROUT HIGH HOPES UPDATE!
So far so good as far as annual rain fall is concerned here in the land of milk and honey! As is the case around the world California has no really accurate weather modeling technology that can understand the duality of El Nino and Global Warming swings in temperature and precipitation.
Fly fishers have seen the extremes in the last ten years or so. Some Springs have arrived without any water still flowing as the High Sierra Ice Pack is non existent. Other year round opportunities do exist for those fly fishers who can never get enough river/stream/creek time.
Private property can be worked year around as well as the many lakes and several special sections of prime rivers.
The days of year after year of gorging raging rivers that never die as hot summer comes to town appear to be over forever! Perhaps fly fishers are the true Canary in the ugly Black Hole Coal Mine called global Warming.
We see and feel the rivers ebb and flow each season and feel the strength against waders, sense the changing temperatures and the behavior of game fish trying to adapt.
These days one must become an amateur scientist to decipher rapid changing conditions. Example, California Brown Trout which can become hugified! Many caught over ten pounds are happier in still warmer waters.
The mutant Hatchery raised ignorant Rainbow planter trout are raised in cold waters and then dumped into often warmer turgid still waters and quickly die.
The world of California fly fishing is changing as quickly as the climate changes, a whole new ball game Cowboys!
The swings in rain fall and the attendant disruptions are not common to California as I have heard from fly fishing guides in Africa, Tibet, Japan, Ecuador, Slovenia, Russia, China who speak of the effects of the current weather disruptions. In my mind the jury may still be out Pilgrims?
I have read studies that support these Global Warming theories based on past known climate records? So what? The world is more complex and unpredictable then these models have unraveled yet?
We fellow helpless humans may very well have absolutely no idea what so ever as to what will happen next year or 1000 years from now. All this hot rhetoric may be the result of TOO many over educated with little else to do but postulate doom and gloom?
By Dan Fallon 2011