Dan Fallon Fly Fishing Article Column 12 2011
A Sublime Moment
As the last whispers of late fall crawl out of San Francisco California I ponder another year wondering favorite streams, rivers, creeks in old haunts like Alaska, Yosemite National Park and small streams near Mt. Shasta, Fall River... Endless periods, hours, days spent studying currents, watching for signs, hatches, and then a moment so outstanding and rare it instantly becomes sublime and timeless.
In this months-old photos a 40 plus pound King Salmon is captured in a great chance photo by Matt Admundson My Lake Marie Alaska Head Guide. During on particular King encounter I hooked four big Salmon within a half hour period, played each for at least five minutes, two for ten or more great hard fighting minutes.
In that exciting short time a rare moment for this fly fisher when that King jumped several times and ran me back into the backing line three times before coming to net. A great fight I'll never forget! My arms were sore from the start as he bent the rod in half and ran hard all three times and had to be chased. A wonderful wild King Salmon battle I barely won and will never forget.
My life on rivers and streams has been an amazing blessed existence watching water run is addicting in itself. Mesmerizing standing in waist high fast cold water and feel the power of the river, Love to feel that current , smell that cold water and hear the birds always changing like the Pacific Ocean waves an endless symphony of sensual sensory delights with occasional sublime moments...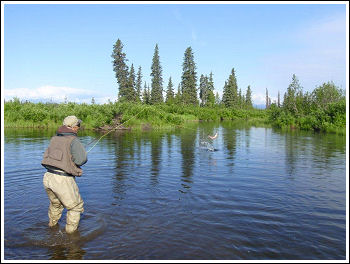 In Yosemite watching waters so clear and transparent one becomes hypnotized and then without any warning a fat wild rainbow grabs my Streamer and my wrist gently sets the barbless hook as a flock of Raven's scream over head as Yosemite long shadows close another perfect day chasing fat Bows and Brookies...
Yosemite still resonates as an almost unused fly fishery. Many small , medium size lakes in the great national treasure Park offer fly fishers many opportunities to savor the mountain peeks and play with wild trout. No wading allowed or water craft. A special fly fishery and a must for seasoned fly fishers my friends…
Northern California now suffering more economic stress then the rest of the state will always be a heaven for fly fishers. When I lived in a cabin on the majestic Fall River every morning my 12 foot aluminum and I would quietly prowl looking for rising fish.
The Pitt River, Hat Creek and many legendary fly waters exist near Mount Shasta. Birds, animals, flocks of migrating geese and Eagles kept me fine company for many months, unforgettable adventure!
Rudyard Kipling, Steinbeck, Hemingway, Roosevelt, lovers of nature masters of words and images all agree it is Alaska where a fly fishers soul is most at home among endless wild stocks on top of the world! No question, a place where the word sublime can be experienced over and over in a single day or single moment.
My encounters with mature Bald Eagles sitting in tress near by watching with those burning eyes that can see for miles and miles. Watching mother Grizzly Bears move their cubs across rivers and streams and knowing if you accidently got in between her and those babies? Hearing Moose, huge fast really dangerous animals when spooked splash and stamp the water to announce loudly Pal, " This is my House Cowboy!"
It don't get no better Pilgrims; Alaska just like the rest of America used to be...
Written by Dan Fallon © 2011