Dan Fallon Fly Fishing Article Culumn 10 2010
ARM BUSTING HEART BREAKING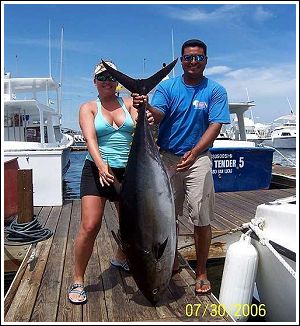 Two or three incredibly rich game fish nurseries still exist on this over fished beleaguered planet! Alaska, isolated areas in places like Antarctica, South America, and in my opinion the big Daddy of them all Cabo San Lucus.
Legendary Capital of serious Marlin, Swordfish, Wahoo, Tuna and host of other species. This super natural game fish factory is created by the convergence of the Pacific Ocean and the Sea Of Cortez mixing ice cold deep currents with the rich bitches brew that is the bait fish nutrient thick Sea Of Cortez.
World records are set and broken yearly offshore. I personally have caught and barbecued endless wonderful fish caught from the surf on many occasions.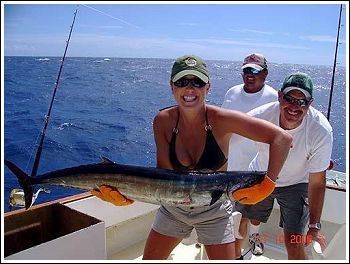 On one trip in the 1990's I witnessed a local legend in a small row boat hooked up to a marlin that dragged him around like a rag doll! Let's not forget the insane night life starting with the Red Rocker Roller from Sammy Haggar's Cabo Wabbo baby...
The local food outstanding and family's always welcome in Cabo. OF course it's the fishing on and off shore that is the magnet for international anglers and fly fishers. If your able to spend time watching electronic deep sonar screens on Marlin boats off Cabo your memory will be filled with huge bait balls and every specie gorging on endless supplies of Squid, Shrimp, mackerel, Herring.
I love the sights and sounds of the flocks of sea and shore birds that follow boats coming and going. Thank the wilderness God's this magnificent place yet to be affected by global weather anomalies, all the great fish still dwell and flourish...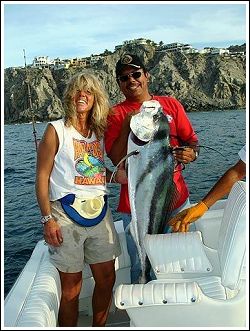 During one of my Cabo runs I worked several miles of the exclusive Madrigal private beach and barbecued great tasting fish for a week. Those who have actually hooked up to a Marlin on the fly and then after an hour or more with the magnificent beast in sight it spits the fly and into the deep it goes, Heart Breaking indeed!
When your first marlin or swordfish puts your lame ass in that fighting chair and they tighten the big belt around your fat gut and that monster starts yanking on you like Jerry Lewis ten minutes before his telethon goes black will never leave your dream bank Cowboy! Arm Busting indeed