Dan Fallon Fly Fishing Article Culumn 9 2010
The civilized world is bombarded with Australia's commercialism from tossing a shrimp on the Barbe to Hulk Hogan and what's her name Tommy (has been?) Cruse's X squeeze?
Not much is mentioned in regard to the incredible fly fishing opportunities from the great reef, deep off shore ocean and special game fish nurseries like the famed Gulf Of Carpentaria.
Over 50 species of game fish dwell within over 120,000 square miles of remote fly fishable waters. One can hunt the killing machine Barramundi, track schools of Tuna in shallow waters only 10 meters deep!
Fly fishers can test their strength while screaming reels hail the arrival of trophy Queen Fish.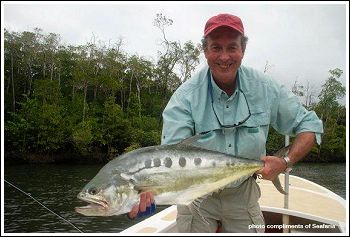 A word of caution fellow fly fisher's this trip about 17 hours if started in North America is a hardcore fly fisher experience on par with Alaska or Africa!
In order to work these remote waters in comfort, safety, and high style. A mother ship will be your base camp and most days will be guided on small craft that can ply the estuaries, smaller coves, shallow waters.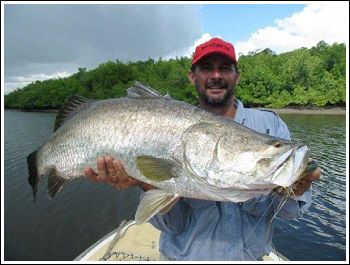 Captain Greg Bethune greets all fly fishers at Barmaga after a scenic 2 hour flight from Cairns NorthQueensland. This staging area is the last civilization one will see the entire week as life on the Mother Ship base camp takes care of every detail.
Guides take guests on small boats attached to the mother ship and work the shallows for voracious schools of Tuna. If your quest is remote unlimited serious arm twisting action with a list of very happy recent clients?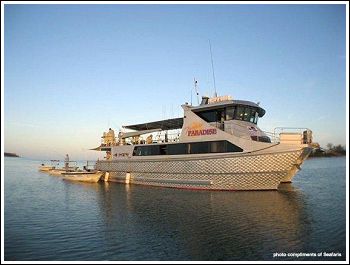 This may be your wild card fly adventure at the bottom of the world. Recent guests attest to many early afternoons exhausted from endless hook ups with wild healthy seldom disturbed schools of fly fisher dreams come true!
Recent guests report 1st class meals and a crew that understands fly fishers of all skill levels. If Australia and its mysteries stimulate your adventure spirit?
What better way to educate, travel, fly fish and witness wilderness seldom seen by outsiders. One aspect of this fly adventure that is very compelling, the amount of species and the almost non stop action! Contact > 800-669-3474