Dan Fallon Fly Fishing Article Column 3 2012
Spend A Week in Deep Alaska With Fletcher Quill
A personal message to the three or four people around the world that have for reasons completely unknown decided to follow the fiction serial "Adventure's of Fletcher Quill all these thousands of years?
I have a perhaps once in life time way to throw hard earned money out the window this June 30th - July 7th I will be hosting a unique assembly of near do well expert King Salmon fly fishers at my favorite King Salmon fighting arena www.lakemarie.com. If you want to enjoy the true Alaskan wilderness fly fishing adventure (100 miles from Anchorage) in Grizzly Bear land where Bald Eagles, Trumpeter Swans, Moose and the perhaps one of the few prolific king Salmon runs suited just for expert fly fishers exist?
This is the trip to book. Of course the meals and spare time will be spent working the surrealistic shimmering membrane of Fletcher's everyday reality!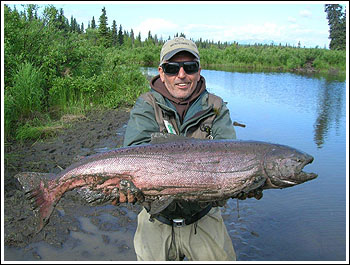 This is your chance (maybe only chance?) to take the author and the King Salmon for a ride into the extreme my friends, Grizzles, Eagles and you and me for endless crazy Dinners, Breakfast and time finding and fighting the toughest wild fish in North America, what do you say Cowboy? June 30th - July7th 2012, you and me and few good friends.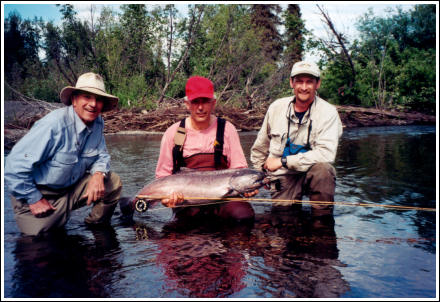 Many stories published about Lake Marie include, "Monster Kings Sweet Bamboo Parts One and Two, 21 Wisemen, and many more can be found at their web address above. Really excited to meet fellow Quillites like you! Join me in June at Lake Marie. Contact John Wilson owner Lake Marie.
Memories of the Lord of the Flies
It has been a decade since the fly fishing world and the international sporting community and I lost perhaps most famous cantankerous, intelligent, fly educated, teacher, Maker of fine Bamboo Fly Rods, knower and liver of all thing truly fly, Walton Powell Lord Of The Flies.
An E-Mail arrived last week from a fly fisher named Win Jolly who recited several great Powell stories experienced when he attended a fly fishing school that Walton and his Son Press were hosting up near the Pit River northern California many years ago.
I had the honor of being one of Walton's last associates, friend, fly fishing Pals while he lived his last days in Fall River California. I spent many hours in the little cabin next to his jet boat. We hung out together and he made one of his last Bamboo Fly Rods and signed it for me, a treasure indeed, Took that little six weight Bamboo to Lake Marie Alaska and caught everything that swims in Powell's honor, that is how deep I hold the man!
Now others saw him as a low tolerance, short tempered irascible character which he was like me. We had no problems spending lots of time talking fly fishing. Here is a great short memory from Win Jolly that in my memories of the Lord Of The Flies says it all. We who are addicted to this sport miss you my old friend.
When Jolley wrote that he had attended a Powell Fly Fishing school in Northern California, near the end of the day Walton looked around and asked the question, Has anyone not caught a fish?
One guy held up his hand. Downstream there was a barbed wire fence that went into the creek. A California Stone Fly hatch was just starting, a few trout were taking the few flies on the water.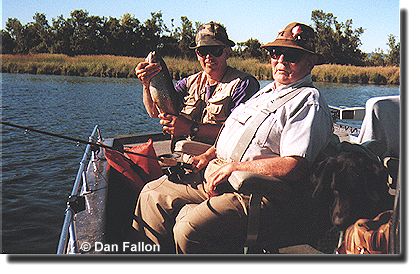 Walton tied on a large Stone Fly and made a wonderful long cast and as the fly drifted into the feeding lane gave the rod to the student and said, "Set The Hook." A nice Brown was landed.
Written by Dan Fallon © 2012