Dan Fallon Fly Fishing Article 2018
SALMON GLOWING IN THE DARK?
Those highly evolved fly fishers that have read this column now moving into its second decade... Understand my love and respect for all things Alaska. Having spent many months chasing wild Salmon and Trout at either Lake Marie or the crazy wonderful Sockeye heaven Bristal Bay. During many weeks spent catching and releasing all the resident species from Kings to Greyling I had the blessed honor to witness wild Alaska at its very best! Which makes this article tough to write as I cannot believe the latest news from both Alaska and Canada.
In the last six months I have been contacted by both Alaska guides and journeyman fly fishers. Who have related some awfully disturbing information that will blow the minds of all sportsmen fly fisher or other wise! The horrible Fukashima disaster many years ago has been in reality an ongoing horror indeed. Japan has been allowing millions of gallons of highly contaminated water waste from the ruptured reactors to flow daily unstopped into the once pristeen Pacific Ocean! Yes, its true the highy radioactive waste has flowed unchecked daily for many years. When the accident happend circa 2011 no one could fathom that our ocean would be polluted daily with thousands of gallons of killer waste for eight years.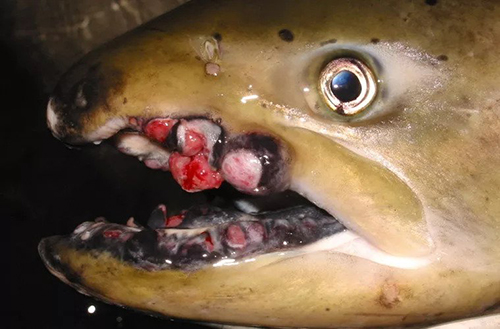 Photo courtesy: Snopes.com
Japan Disaster Continues every Day!
The photos published in this article have been published and represent only the tip of this insanity! Guides speak of once rich streams and rivers now almost empty of any fish at at all! King Salmon runs are down or nonexistant now for several years. Alaska has stopped all sport fishing and appears to be clueless as to what happens next. The famed Kenai has no Kings and has had no Kings for several years. Only a few been counted! The appearence of deformed cancerous salmon are becoming regular finds.
Though Bristal Bay Sockeye counts seem strong and steady? Could be delayed reaction and possible next big shoe to drop sportsfans. Alaska bounty must now accept this chilling fact. It appears at this stage in lieu of Japan still allowing this constant killer radioactive waste to flow unchecked. Alaska may be on its last legs. This could be the end of jewel in all fly fishers crown. Are we seeing the possibly end of this rich wealth of wild fish? Maybe so friends, many studies have shown once wild stocks of fish are destroyed they do not regenerate period, gone forever!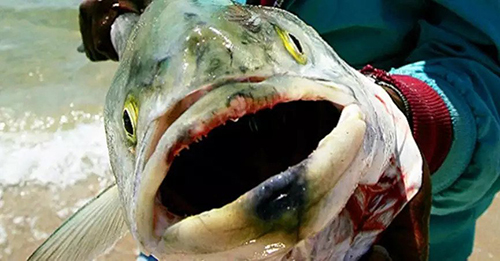 Photo courtesy: Snopes.com
Alaska Endless Wild Fish Stocks Doomed?
It is possibly about to happen and if the waste continues as it appears will be the case! Wild Alaska salmon, trout, greyling and all wild stocks may be on the hopeless list right now! Guides and resort owners are afraid to speak their minds on this ugly situation. I guess they imagine it could just go away? It willl not go away. It will get much worse quicker then anyone can grasp! No one making a living in the sport fishing industry wants to open up on what they see every day! Who can blame them. How Japan has been allowed by world community to continue letting this killer waste flow unabated for years? Beyond any sane beings understanding and worse no hope at all of the leakage being stopped any time soon. Crazy and hard to imagine years of waste killing fish and destroying once grand wild stocks.
In the last six months I have begged guides and resident Alaskans to speak out either to me or any journilist. No one will say one word fearing the wrath of the resort guide industry. Have spoken with several Biologists they are positive we are only seeing the first effects of a unstoppable crisis. It will take a few generations for the wild stocks to evaporate totally! These first signs are only the first volly in this silent war. Why the world of media has ignored this rape of both Alaska and Canada is beyond reason.
Sad Last Thoughts
In my 71 years wondering around hunting and fishing much of this world. This story if only half true is the most horrific to come my way. My most memorable fly fishing trips were to Alaska. Over last twenty years many Alaska stories have been published in this column. If you or your sportsmen friends would like to verify my findings? Simply do a web search or take a trip to Alaska or start calling resort owners or guides and ask the hard questions like I have. One thing is sure better take a geiger counter with you before
even thinking about eating any thing that swims Alaskan waters. The Alaska Fish & Game say the fish are just fine no worries come on up. My advise do deep study first before spending one dime. I think the real truth has been hiding and may not be told until its too late...