Dan Fallon Fly Fishing Article Column 3 2011
High Sierra Russian Roulette Baby!
California fly fishers up until early February 2011 were shuffling their feet and checking out the world wide web for great late summer fly fishing trips anywhere where H2O can be found in copious amounts...
Suddenly the rain Lords smiled and it came down in hugified snow flakes all over my favorite water retaining temples from Donner Summit in Lake Tahoe to the peaks over looking perhaps the finest big trout fishery in the frigging world Eagle Lake hands down!
This very late season water blessing has everyone I know dancing, a lovely long fly season awaits me hearties! Those who are for some reason ignorant in regard to California's fabled serious big trout repository?
Better pack cold weather gear first Cowboy, it do get cold and the Hawk as the wind is called in Chicago blow and blow. The pay off is you will take and release big trout. Eagle Lake will satisfy no question!
Lake Tahoe tributaries when snow allows are teaming with trout right now! New Melones Dam excellent some surface action early late. Up top on another old haunt of mine the killer Feather River system is going to be insane this spring.
Many of these great rivers up north are fed by underground springs. This spring will be endless wild flowers and too many trout.
I would start tying your dry fly assortment as the dry fly surface action will be historic in June, July, August. Those heading for Eagle Lake , my old Pal Jay Fair legendary fly guide tier owns that lake.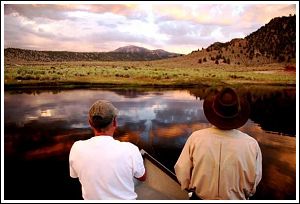 Lower Owens River wild trout area is serious nymphing only with little surface action as usual those who can effectively work Wolly Buggers, streamers can score. Late afternoon early morning best, dress warm Pilgrims! Local guides can be found at www.sierradrifters.com.
These gentlemen know the waters and understand the philosophy of slow intense drift boat fishing and deep nymphing. Hot Creek another fabled wild trout sanctuary is waiting for experienced deep nymph workers and those who can adjust with surface dry fly and four or five feet of your favorite hand tied nymph down below.
Best reason to contact a local guide if you're a once or twice a year fly fisher? Learn from an expert so you can guide your self next time?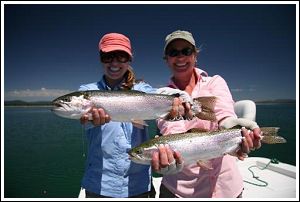 Mount Shasta Wild Trout Heaven Son!!
Old friends right now deep nymphing near my old home on the wonderful majestic Fall River near Mt. Shasta are slamming healthy fat wild trout and a few Browns.
It is ice cold at times and the rivers from Mt. Shasta down through Hat Creek are lonesome places right now as the early morning temperatures are at or near freezing! How serious are you Pilgrim?
Personally my favorite time because the rivers are all mine... My fondest memories are drifting the Fall River 8am dressed for Antartica, hot tea and frozen fingers ahhhhh sublime indeed.
This year California fly fishers need not worry, we have water and we will enjoy the moment.
Common Flies
Hares Ears, Midges, Pheasant Tails, Copper Johns, Micro Mayflies are great almost year around! My favorite dry is the trusty old Mosquito tied either very small or extra full depending on the situation.
Streamers are more personal preference, Wolly Buggers and Matukas lead the pack. Generally speaking the smaller the better is the rule.
Written by Dan Fallon © 2011