Dan Fallon Fly Fishing Article Column 7 2011
Twenty One Wisemen
Part One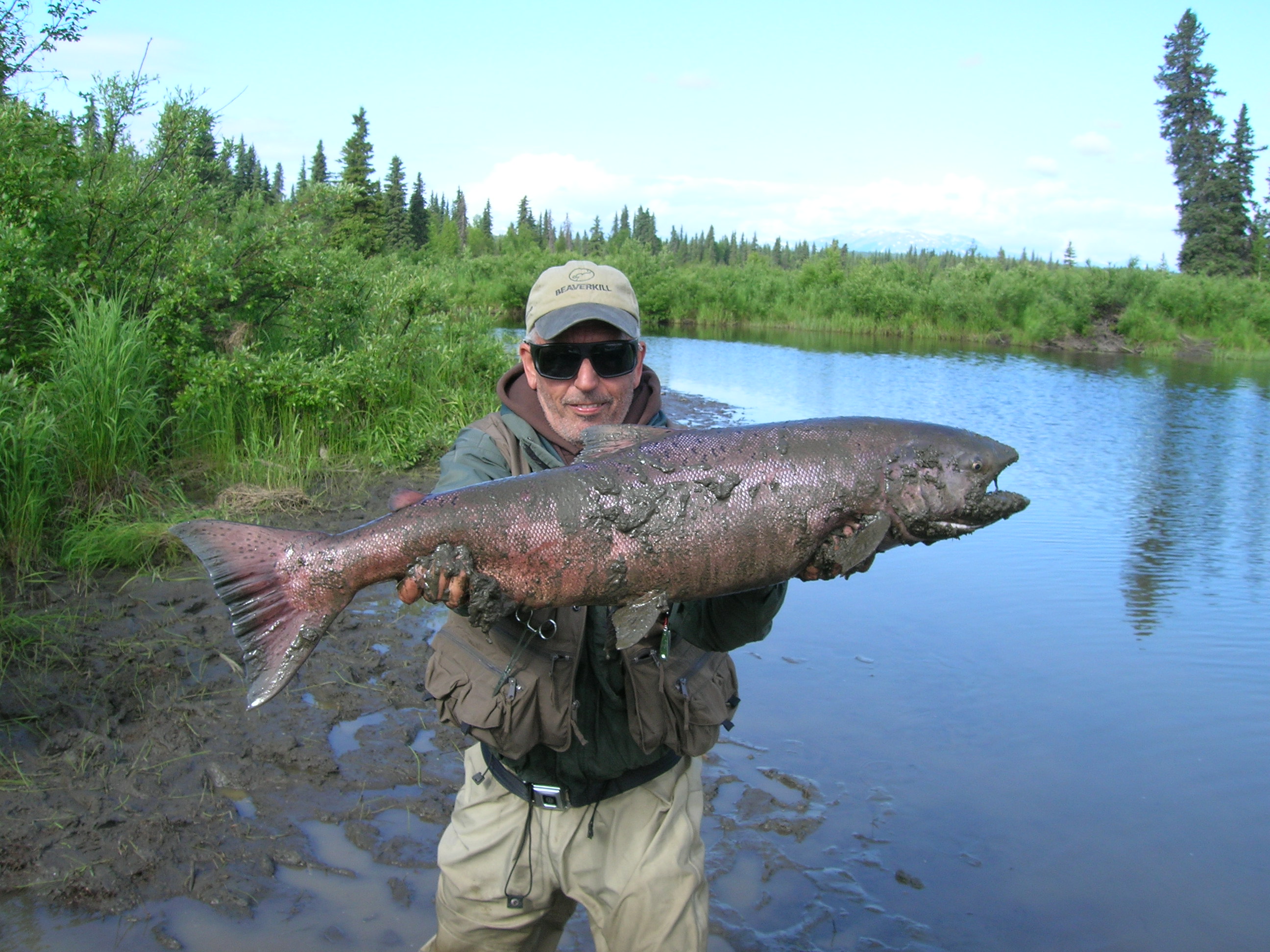 Late June 2011 deep in remote Alaska where Grizzly Bears's own the right away and King Salmon rule the rivers. A group comprised of seasoned world class fly fishers assembled at Lake Marie Lodge.
Over the course of seven days while plying the abundant waters, ate breakfast and dinner together.
Much like 21 aging Alpha Tigers sharing the same watering hole, sizing each other up with only one thing in common! They all ate meat and were unequivocally Brothers of the long Rod...
Lake Marie fly fishing lodge located 100 miles north west from Anchorage is as remote as it gets.
Clients are flown in for one week of eight, nine hour days chasing Rainbows, Dolly Varden, Arctic Char, and all the Salmon species including the elusive King Salmon which can reach near 60 plus pounds of pure street fighter!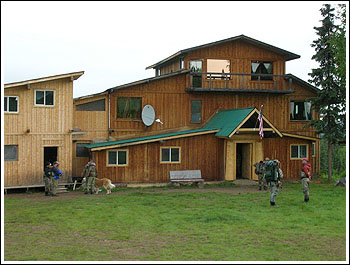 Over the course of fourteen meals spent together often laughing so hard eating was near impossible! Personalities emerged while fly fishing stories flew around the long table like the ancient Knights of the Round Table.
It was on baby. Only one thing mattered from the start of this Brothers Of The Long Rod love fest. Who would successfully with out help catch, play and land the most and largest King Salmon.
Simple rules, no tricks, you and your ten weight fly rod and a bit of feathers.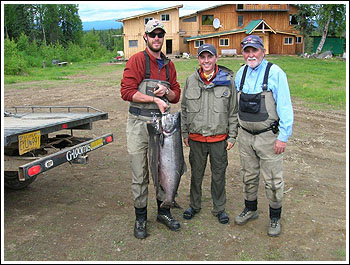 Among the seasoned veterans were several son's including Brett Zane Jessen, Son of Dr. F. Zane Jessen.
This quiet soft spoken young man took 21 Wise men to school while catching and working a 60 pound plus King over the course of 45 minutes twice falling and swimming back to his feet ala, "River Run's Through It."
The photos don't do this giant King Salmon justice, it is a beast of piscatorial splendor! Then the next day he caught another in the 50pound class! Brett Zane Jessen, you are the Man!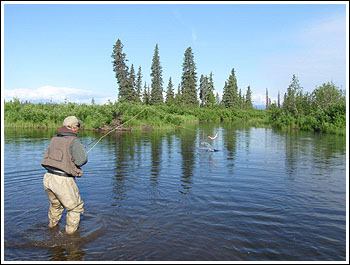 Lesson In Good Sportsmenship
Tom Paszkiewicz did not get a hit or fish in the entire 7 days and nights! Tom an accomplished fly fisher encountered a serious hard run of luck that appeared to follow him no matter what he tried.
Tom a member of the Minnesota contingent never failed to smile and joke as the other anglers spoke of catching and landing King Salmon and Rainbows... A tough place for anyone to feel comfortable.
Then in the last two hours of the last morning Tom caught and landed a nice King, the curse lifted in the last 2 hours. Congratulations Tom. A lesson well learned for all 21 Wise Men.
Each day all clients moved to new beats and new situations to ponder as the big Kings moved into rivers and streams.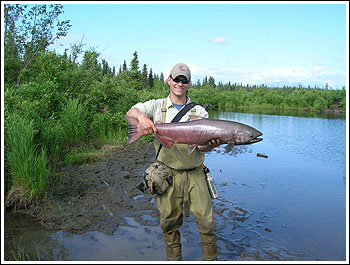 Ten weight fly rods armed with flies tied at the lodge split into two categories.
Small Rainbow patterns and large King Salmon flies tied on number two hooks gaudy and loud in color as the Kings are not actually hungry at this time. They are hitting anything resembling red roes out of reflex or annoyance involuntary reflex.
Anyone capable of successfully hooking and wrestling these wild beasts that can reach 70 plus pounds with light fly rods has arrived at the top of this sport. Taking Bone Fish with light gear or salt water Marlin action another set of hard rules to follow.
Chasing Kings with fly rods on the top shelf of all fly fishers dream trips no question!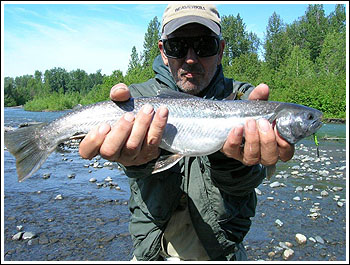 The usual mistakes made are trying to muscle in the fish before its tired. All Kings are lost within ten minutes of the hook up because either the fly fisher could not set the hook firmly on the first strike or could not understand the fish has to run often many times taking all the fly line each time down to the backing line is common.
One is excited after casting over and over sometimes for hours before a fish hits the fly. A daunting exercise for the most accomplished fly fisher.
www.lakemarie.com has all the equipment and fly tying material needed, a full service lodge with excellent food and quality rods and reels.
The guides know the sport well and take care of clients carefully. Highly recommend this remote fly fishery complete full service operation with years of experience.
The Wilson family starting with Mother Marie and John and David created a special fly venue deep in Alaska's still wild Grizzly Bear occupied heartland. A must go trip for any serious fly fisher.
Two remote H D Radio shows were recorded and can be accessed via the web www.outdoortrailsnetwork.com. Hosted by Jim Ferguson. John Wilson is interviewed on the first show and Brett Jessen on the second.
Many thanks to both the Wilson family and Jim Ferguson for a wonderful trip again into Alaska's true last remote wilderness, a trip of a life time indeed...
Part Two my near drowning incident! Working the ubiquitous Mouse on top of crystal clear waters with Mouse Expert and Head Guide Mat Amundson. Bear sightings, Eagles, Moose, Trumpeter Swans, and evenings spent enjoying Prime Rib and Mom's home made Apple Pie served by a very tolerant Angel named Darlene...
Written by Dan Fallon © 2011