Dan Fallon Fly Fishing Article Column 8 2012
Grand Slam Part Two
Before I drop into my long winded metaphor riddled recollections of the exciting, dramatic week spent in Alaska's true deep woods a few thoughts about the changes I have detected in the twenty years of visits.
First the climate is warmer, no question of that, several degree's for sure! At times river's appear not quite as fast and high, then they seem just as fast and high? Rain's are not as constant and the bird life appears to have diminished? This year for the only time I can recall King Salmon runs are down enough to prompt the Fish And Game to stop fishers from taking them this season?
In short in my time Alaska does appear to be going through a kind of chrysalis like a Butter fly about to emerge into another kind of creature? I prey this pure wilderness is kept this way forever and many people get the chance to hear and see these wild rivers, streams, touch and smell this wildness, have it dominate their minds and hearts as it has mine... The fish stocks rise and falling reflect the global oceanic damage.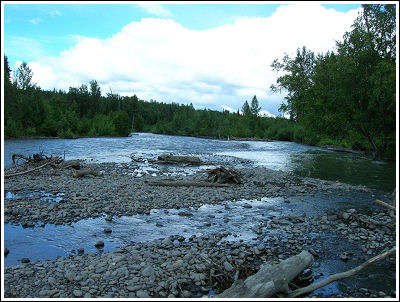 On a more positive up beat note, each morning around 4am I awoke in my Lake Marie third floor Penthouse and prepared my gear and soul for sensory over load! Over the years the kindness and Brother Hood, hospitality of Johnny Wilson and the Wilson family has been a wonderful constant for me, I'm so grateful! Thanks Johnny, love you Brother...
The Wilson Homestead has become a show case place for world class fly fisher's seeking wild river's full of all species from King Salmon to rainbows over twenty inches. Contact John Wilson at www.lakemarie.com. This trip began on Day one with endless Rainbow hook ups and almost a Grand Slam other then a Dolly. My Guide Big Bad Brad, great fly man who knows the rivers, streams after three years in the area has the place nailed, wired!
We hit the water on day two 8am, within two minutes of walking little creeks and streams in the Upper Otter region we were hooked up and playing big Bow's one after another and then three good Kings over thirty pounds on my 6 weight Bamboo was the absolute best! 8am and Brad is standing at the door after Breakfast big smile, "You ready?" And it's on...
We grab a little truck and head for the Boats and we hit it, river after river, stream after stream just me and my Guide and we are syncopated in one mind set. A Grand Slam can be attained before the week ends, have almost clinched it on day one, so lets go get it! All species caught and released in one day! Come on, lets get it, and we did!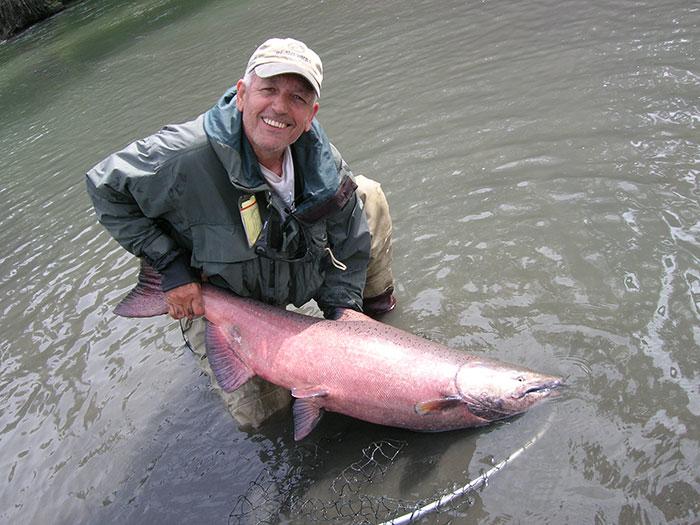 Techniques
My set up day one till the little plane took me back to Anchorage never changed, my trusty custom designed Tonkin Vietnam Bamboo Fly Rod, two piece with six to nine feet of 6 to 8 Pound test tippet material.
I use an excellent Orvis Large Arbor Reel, the outfit suits me like my 1998 Black El Dorado. We used both Brad's Special fly pattern's which he has asked me not to show photos or discuss in detail as they ARE DEADLY my Brothers of the long rod and Big Bad Brad don't play every Tom Prick and Photarry knowing his secrets! Understand Ball Players?
Love that, Big Bad Brad don't mess with Super Man's Cape, Don't stare at the Sun? And don't mess with the Brad Special Baby!!! Best over all flies were the tried and true trout size Egg Sucking Leach which I used to almost make the Grand Slam again on day two and three.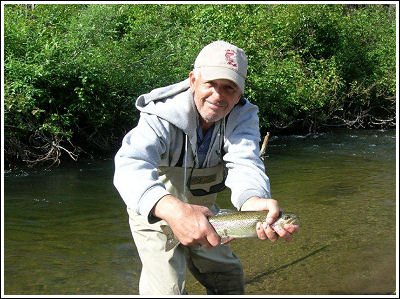 I only needed a King and lost two on day two. On day three I almost had the Slam and again no Dolly by Dinner time! Both Brad and I knew the all species Slam was going to happen , no question, we were close everyday. Every day the same basic routine to places like Johnson Creek, Otter, upper and lower and places with no names yet!
We would wade long periods and walk and cast small streams and creeks and then for long sessions walk and throw under tree limbs and near currents slack and deep where big Bows hide and saved energy. Many hook ups with King Salmon in clear water less then four feet deep. The Kings were in the 20/40 pound range, I hooked and released at least three or four day with several over fifty pounds on my little 6 weight Bamboo.
The whole Time we walked and threw flies was great fun, at times Brad would be in good place to watch and see the biggest Bows and we would entice and catch and release over and over and over! Many days 40/60 Bow's, Dolly's, Char, Salmon, Jack's of all size's (juvenile Salmon) and a few times I caught what appeared to be a kind of high bred tiger stripped Rainbow big and strong. The Bow's were all 16/26 inched fat healthy Alaskan wild Rainbows, great fun to play on the Bamboo all day long...
During these long periods of hyper fish catching and always moving and wading strong current. I would stop and smell and just look and drink in wild Alaska, so sublime for the total sense's to slowly devour like a fine French Chocolate Moose. Rain's would come and go dark clouds, blue sky, winds, and all the sounds of the waters moving, endless sounds. On the fourth of July just as I was fighting a nice King, Brad yelled look up!
I did and Bald Eagle was flying over and watching us, a great fourth of July it was... In the rain we made fires and made lunch and laughed and began to understand we had much in common aside chasing fish with fly rods, a friendship formed. Lunch could be anything we imagined that cooked on a sheets of tin foil in hot coals, like corn chips, cheese, magic Brad sauce and Bam! Lunch is served.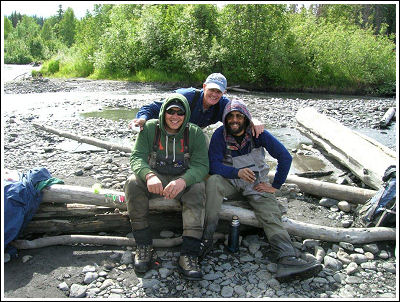 Hospitality Lake Marie Style
Nirvana attained by guests at Lake Marie Lodge can be explained in one word and that is Darlene. John Wilson was wise enough to hire this wonderfully patient, sweet, diplomatic woman to act as a kind of patient female presence in an awfully male atmosphere! And it works perfectly for all concerned.
Darlene takes care of all Dinner, Breakfasts, and general information while maintaining her crack house keeper staff (her daughter Kylie, very cute!) This lovely mother daughter act is greatly appreciated by all! Thank you so much for taking care of the Wolf..... Darlene, bless her, has been contacted by Webster's 2012 Dictionary Up date, she was asked to redefine both patience and tolerance, (She has cared for up to 25 men a week all summer long!!)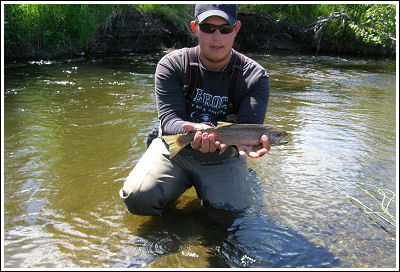 Day Six the Slam!
When the next to last breakfast was just being cleared on day number six, Brad as usual standing in the Door waiting and smiling, as we walked to the small truck at almost the same time we said in unison, "Grand Slam Baby!". He knew and I knew today had to be the day as in the morning I packed to leave for San Francisco.
We headed again for Upper, Upper Otter Creek, a good long wade in high water and a nice walk and worth it! Within moments of hitting this great stretch of about two miles of clear narrow less then five feet in places creeks packed with big Bow's and dolly's and Kings and all the species. I had the King first then quickly several Rainbow's all big, Ten Jacks up to six pounds, and then nothing, we needed the Dolly again to make the Slam, needed a Dolly.
We tried several holes, more Bow's no Dollies? Then in around the last hour and half Bam, Brad put me on three nice Dollies and my First Alaska all specie Grand Slam was now historical fact. Thanks Brad you are the fly man.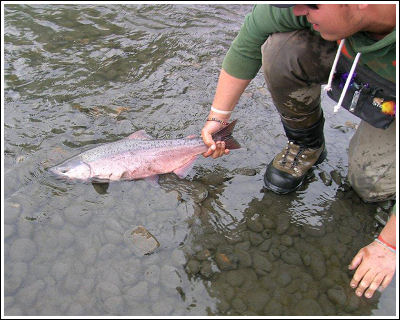 Some Dinner Time Volatility Could not be Avoided!
No question Sports Fans, if you contain more then twenty world class sportsmen in a remote Alaskan fly lodge for one week of one on one on twenty Breakfast and Dinner moments... Someone is going to bring up the firecracker causing subjects of either politics or religion. It was yours truly who was asked questions about my storied, checkered failed San Francisco Political past.
It got ugly and could have gotten much worst when cool heads sorts prevailed and tempers calmed, can't avoid some testy moments when you lived the full life I have lived. Like Plato said in his dialogues to new members, "Remember you are in charge of all the words that fall out of your mouth!" Other then nominal supper time blood letting, fist fighting and arm wrestling.
It was a joyful Band of Brother's Of The Long rod. I highly recommend both remote lake Marie Alaska and the Pioneer Wilson Family, John, David, Mother Marie and Darlene and Kylie, love and miss you all... See you all next time, bless you all.
Written by Dan Fallon © 2012