Dan Fallon Fly Fishing Article Column 1 2012
Patagonia Dream Fly Adventure
"Men either live their dreams
or die with nothing left
but hard cold reality..."

Rudyard Kipling 1865-1936
I first met both Ian and his friend Amir in deep remote Alaska June this year during a week chasing big King Salmon and fat wild Trout. Both men appeared dedicated to this complex sport, Ian new to fly fishing was like a sponge soaking up every suggestion from casting to fly presentation.
It was apparent to me these guys were candidates for a serious life long fly addiction, no question! During the fast week at www.lakemarie.com I had a chance to become friends with these fellows... If one were to put together two international remote fly adventures in one year? Remote Alaska and Patagonia would be ideal and as off the beaten path as possible!
Patagonia Alto Puelo Lodge www.argentinachileflyfishing.com located in the Andes Mountains only six miles from the Argentine/ Chili Borders is as remote and well equipped as one can imagine. After spending time 100 miles from Anchorage Alaska in Grizzly Bear country this Patagonia Lodge was a perfect counterpoint to the top of the world!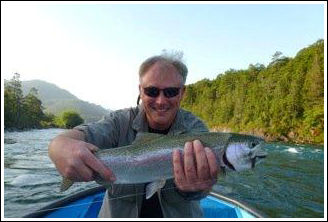 Friendships are often made for life on these splendid fly fishing adventures to foreign lands. Patagonia world class big trout are plentiful in the mighty majestic Puelo River it's headwaters originate in the eastern glaciers that flow down the Argentine side of the Andes Mountains. This still pristine habitat is rich in diverse Aqua and surface insect populations which translate into ten pound trout and world class fly fishery few people have ever seen!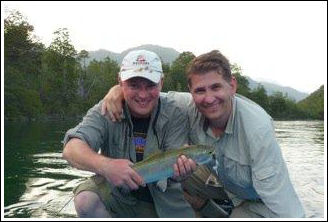 Thanks to expert local guides Eric & Kent Schoenauer Ian & Amir were into big trout that had not been fished, spooked in a year. Ian related the non stop action, Catching huge wild trout on a #5 Bamboo fly rod is sublime -our arms were jelly at the end of the week!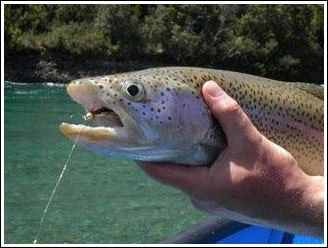 After a private lesson with Kent a 30+ year veteran of the sport. I learned more then most experience in a life time! Ian is a fast learner with great Dentist hands maybe best for learning to tie flies.
His flies at this early juncture rival the best I have ever seen, he is a natural fly tier/flyfisher who now has two world class fly venues under his belt!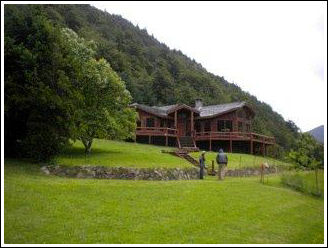 After Kent's great lesson's next day I put those lessons to task and caught/released over fifteen trout, all on flies I had personally tied!"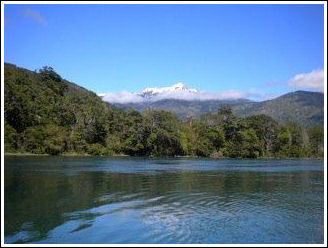 Patagonia has blessed two more Brother's Of The Long Rod, Ian & his good fly friend Amir have tasted the sweet crystal clear waters and they have become mesmerized and will return many times to the land of the blue water...
Written by Dan Fallon © 2011