Dan Fallon Fly Fishing Article Column 2 2013
Mud and Blood on the Kvichak
This article is not for the once or twice a year sensitive Dry Fly Fisher who treasures Vermont shallow chalk streams and two weight rods... Late July last of the famous Bristol Bay Alaska Sockeye run journeymen need only apply. The legendary Wilson family, owner's of three Steller fly fishing venue's www.lakemarie.com, http://www.alaskaclearwaterlodge.com and the small very remote To-toy-lon River Lodge Have owned Clearwater Lodge for several years.
Located in prime area in the center of the Bristol Bay Drainage System where the largest number of healthy bright silver Sockeye's roll by everyday of the season! Twenty year average is over 9 million a year! Home of the worlds biggest Rainbow's, many over 37 inches caught and released. Perfect habitat for Alaska's premier Dry Fly target jewel like Arctic Greyling in four distinct species exist in great numbers. If this world class menu is not enough? One can chase Northern Pike on Tundra ponds or wait for the annual Silver Salmon run, outstanding numbers even with strict rules for both commercial netting ships and sportsmen.
Throw in big Chum Salmon and you have perhaps one of the absolute most sought after remote fly fisheries in still wild Alaska, if not the world! That said I was looking forward to 7 days of dead serious hard fighting Sockeye's that would have to be sight fished mixed with ten pound plus chums and the occasional Rainbow followed with hypnotic mornings gently dropping dry flies on Greyling's glistening like living jewelry....
Vast endless vista's mesmerize, winds kick up, float planes, constant Sun and water so clear one is easily hypnotized watching big gangs of Sockeye's prowl like silver submarines.... Paradisio.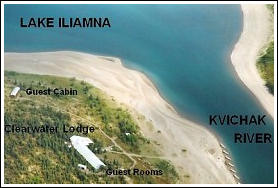 After the usual easy ride from San Francisco California four hours and change then endless Sunny days and the low lights of Anchorage, Hub City for all excursions that begin in smaller planes like the two engine that flew through the heart stopping canyon that winds down into the heart of world class remote fly action. Once upon the shores of Lake Illiama and the confluence of the famed Kvichak River running so clear your eyes will never behold this sight again, trust me!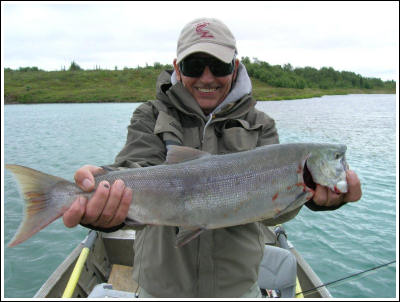 After a hair raising flight into this fish nursery paradise, it is the clear water that grabs you in sensory over load, gangs of sockeye flashing with big Bow's, insane to behold sports fans. Waiting in boats guides grab your gear pump your hand and size you up as the routine is explained and rooms are settled into. Clearwater lodge built in the early 1970s famed for incredible moments, famous guests and plenty of elbow room. Well appointed without all the plushness of $10,000 a week ultra lodges with Putting Green's and Sauna's...
Clearwater is for hard core dead serious fly fishers and those willing to learn how to catch, play, land and often release as many fish as you can handle day after day. Clearwater ain't frilly, cute, appealing to the super spoiled rich. This is where you come to fight the good piscatorial fight, not sip champaign and sit on lounge chairs Pilgrim! By the end of this insane week Captain Huber's 18 foot boat was covered in blood and mud baby!
Before we explore the how, what when and why of the blood and gore... A few lines on my esteemed, highly talented, well read consummate Wilderness fly fishing Guide, Captain Dane Huber! He knew the river, lake and the small tributaries in minute detail. Could day after day pinpoint the species and odds of success with Houdini grace over and over...
But, for me the life long writer, publisher it was his passion for the periods and characters in English and World literature that made the trip unique... We discussed everything from Ken Kessey who I interviewed for Radio KUSF in San Francisco 1995. Hemingway, Allan Ginsburg, Merry Pranksters, Neal Cassidy, Dane was totally hip to all the main players in the genre, great fun!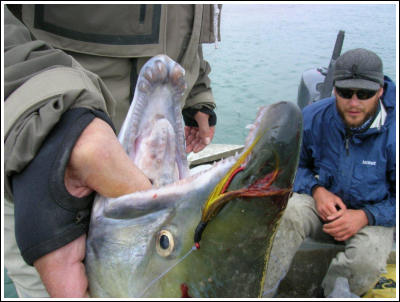 First Three Days in Paradise
Stage was nicely set for seven days of sampling and fighting all resident species sight fishing , constantly moving and throwing an assortment of simplistic easy to tie multi colored Buck Tails... The real truth wanna be fly tiers, these Bucktail's are so easy to tie! I'm certain I could teach a six month old Squirrel Monkey how to tie them in five minutes, zero skill needed...
Clearwater lodge now approaching half a century may not be shiny glistening new, but, it is dripping with fly fishing history. Relatives of noted anglers from Hemingway to Jack London have sampled the crystal clear waters, one can almost hear the laughter echoing in the Dining room. Lodge has a complete and well stocked Fly Tying area.
As our party consisted of only five people and it was end of the sockeye run, few guides were present, lodge was our's to enjoy. Normally up to 30 fly fishers, bird watchers, those seeking sublime peace, quiet and surreal wilderness.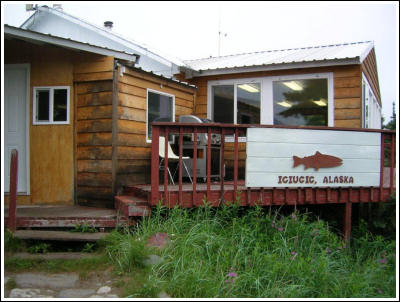 Breakfast served at 7am by the resident Chef Mike, Mike can cook anything, makes home made biscuits and keeps his trusty guitar close by just in case an attack of old school Blues over takes.... love this man's cooking. 8am Captain Dane is ready to roll, first day is an overview of what fishing is available and the special techniques used at Clearwater.
Guide Dane starts the perfect cold Alaskan morning with, So Wolf you hung with all the San Francisco Bad Boy's? Who is your favorite? " And its on Baby, Rolling with the Frisco Wolf and laying it down in the remote Alaskan low fog, the Best!
18 foot boat screams across clear water as we hit spot after spot searching for gangs of either big ass Bow's or Sockeye with serious intent... My 6-Weight Bamboo takes a twenty pound chum down and lets his multi colored sweetness keep roaming, slow action for the first three days.
Then we decide to take a ride into the local Tundra on a Quad Runner, time to chase the infamous Northern Pike, long serpent like fighters, green and ugly as Hell. We catch a few little ones and savor the wilderness Tundra that sinks deep as you walk it, sublime beginning indeed... Wolf is already happy and back where its still wild and crazy wilderness, lit up most of the night and unpredictable as usual...
Rolling along the shoreline in the Marine Green Quad Runner no other humans, no trash, nothing but vastness, endlessness for miles... Poetic sensory feelings that touch the deepest ancient DNA in those who spend their lives in pursuit of pure wildness. Sockeye's fight with serious ferocity pound for pound unmatched in water clear enough to watch the fish see the fly and pursue it, slam it hard.
This ritual burns into fly fishers souls and becomes the high water mark for true fly fishing Nirvana. I have played many King Salmon that were incredible fighters in Alaska in my sporting life. Truth is in the Last Frontier all wild fish stocks from the Dry Fly target Greyling, Rainbow, Dolly, all Salmon except maybe chum that for me are like lifting rocks, great fighters indeed.
My wrist savors that feeling of first hook set and fight. Those fly fishers who dream of seeing, finding, playing and releasing all the resident Alaskan big game fish in one area except Halibut, this is Mecca Baby! World class in every way, all species available in great numbers...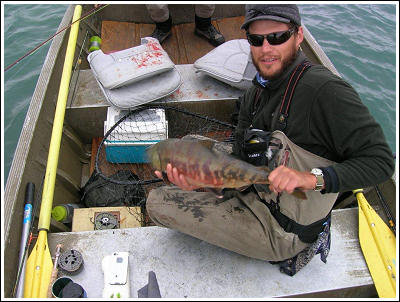 Light Tackle Holy Grail Baby!
By day four my routine was set, up at 6am, Breakfast at 7am, on the water boat ripping along looking for the first sign's of salmon my primary target looking forward to taking back many pounds of vacuum packed fillets for the winter freezer. In the last three days, Captain Huber put me on many fine Sockeye schools and fish after fish was landed until the best were kept.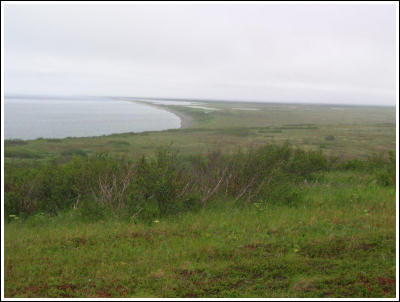 Mornings were cold and often windy, this area Bristol Bay noted for severe winds that can blow long and hard roar down the same canyon small planes navigate and thrill passenger's in route. Dane knew the area after working several summers and quickly went from place to place. We rarely stayed anywhere in the vast expanse of water unless multi hook ups occurred or the fish simply evaporated!
Often upon seeing the boats bow the salmon would quickly blast away. Dane usually began each morning with one of his patented opening statements like, "So Wolf having lived the life of a San Francisco Skateboarding Hippy how did you master fly fishing?" And off we went laughing and acting like boys that skipped school to chase fish like man was put on Earth to do at will whenever it moves his knuckle dragging Neanderthal Soul Baby...
As is always the case early morning action the very best then we had to work to find and play with the big Sockeyes still bright silver fresh. All the while I stopped and sat and stared at the wilderness, vastness whenever possible. The fly rod set up was either my light Bamboo for Rainbows or Greyling or the lodge rigs 7/8 weights with various reels. Nine feet or more of leader and no tippet a loud Bucktail and your good to go Cowboy. Throw as far as possible if fish move, its work.
On several occasions rods exploded and Salmon were hand lined in by Dane and myself. We had incredible moments when the action was hot and the mud and blood on fish, us, the boat was wonderful to behold, the best Baby, the best. Taking fly fishing to the maximum over and over. Average fights 6 to 15 minutes of arm ripping battles often lost.
I lost many fish, it was not easy, it was bad ass. Not sure if the lodge will ever allow this kind of extreme drift sight fishing with lighter tackle, I prey they do. It is nothing but fun fly fishers. Usual drill is staying on the shore or wading shallow inlets for Bow's.. As I'm a long time friend of Wilson family and a seasoned extream fly fisher certain allowances were made and I do appreciate the VIP treatment. Always first class when I stay.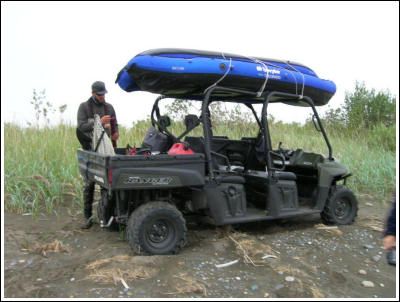 Outstanding Piscatorial Characters
In the fifty odd years I have been roaming, wading tasting wild rivers world wide, every trip thank the Lord of Lords comes resplendent in solid gold men to be remembered! This trip to remote Bristol Bay did not brake my phenomenal good fortune...
As Hemingway often refrained, "Pure high grade manure is the stuff real life is made of.." First I have been hailed on the Internationally level as a top tier slinger of the highest grade American made embellishment as any man ever slung Baby!
Two outstanding American made super stars in the you wanna tell stories to each other for seven days Frisco Wolf??? Roadkill Joe retired UPS genius mechanic from some where I can't recall in the heartland, lives and farms on occasion many millions of acres...
He was my first choice for all Breakfast, Dinner conversations. His tales of exploits with his APC Armored Personel Carrier and collecting road kills for his Son who skinned and trapped animals was the best. A man who could tell a story well and funny, no BS, just fact, Google it.
I laughed so hard. Captain Dane Huber, seasoned wilderness Guide, gentle intelligent man, an honor for me to have spent time with a young man from a fine family with impeccable manners and mean to the bone skills like an Egret, no quit in this man, none. Thanks Skipper, you rock!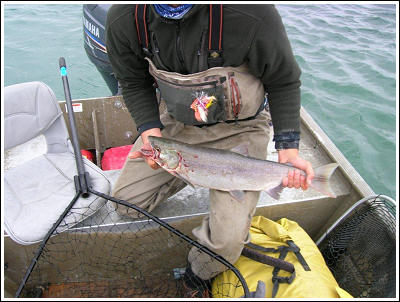 Thanks again to all the Legendary Wilson's, Mother Marie, Johnny, David. Another great trip first class, I know your going to paint and redo this old school memory filled Lodge soon... Hope a few hard core extreme fly fishers get to play at Clearwater Lodge before the redo.. Peace.
Contact David Wilson at www.lakemarie.com for all questions. I highly recommend this unigue old school fly venue steeped in fly history. Tell David the Frisco Wolf sent you...
Copyright Dan Fallon 2013 ©