Dan Fallon Fly Fishing Article Column 5 2012
California Stream's & River's Open!
It has been a season of guessing games when it comes to rain fall this year. Early in this season nothing resembling water fell from the sky. Fly fishers and water management were getting a bit tense as reserves began to dwindle, then slam we get several big storms and the rivers streams come alive running deep and fast this 2012 spring.
Fast high water means safety first for those who wade fast waters in early spring, most accidents in fly fishing happen in early spring as rivers, streams are at their most dangerous, be careful out there Pilgrims. My advise is to work on long casts from shore working streamers as deep as possible, too early for any nymphing or top water action.
Wolly Buggers, Leeches, green, black usual somber dark colors work well now. Attach several bead weights and get that streamer as low as possible and you will catch& release many spring fish my friends! Working streamers in fast deep water takes practice and patience. Begin by throwing near large rocks are along the edges, let the weighted streamer drop before reeling.
Learn to count to your self maybe to ten before reeling, then try quick short movements followed by long runs with pauses. Attempt to replicate the movements of small fry, bait fish constantly moving, darting so they don't get eaten!
The mysteries of fly fishing can be unraveled simply by learning to observe, learn to sit and just watch the waters your plying my friends, a wealth of information will come your way, just by watching for twenty minutes before you begin throwing and disrupting the natural order.
Watch, observe, then begin slowly working all the edges then move into deeper water, it is the way.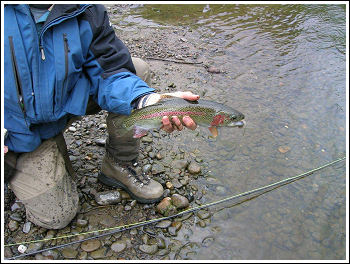 My tactics for early fast deep water work are as follows. Always get to the area before sun up and take time to carefully inspect possible slow currents, feeding lanes, slack water where bigger fish hide and conserve energy usually under rocks or just behind rock and boulders or under fallen trees are exactly where wise old fish live and stay safe conserving vital energy.
After careful observation you will have noticed any rising fish ( Unlikely- but they do rise in fast water). Now before any other fly fishers arrive begin working that streamer recommended to you by the locals you were smart enough to speak to at the coffee shop, fly store, stream side.
Your odds of success are much greater if you take your time and get there early enough to evaluate before you begin stomping around in your shiny new waders destroying stream beds, disrupting the aqua natural order and sending any possible catch able fish into the next county! If possible sift the water and move rocks to see what the local fish are eating?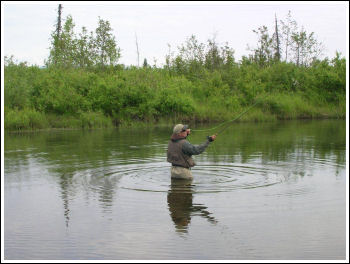 Come Play with Fletcher Quill and his boys in Deep Alaska June 2012!
Only a few rooms remain vacant at the remote www.lakemarie.com lodge June 29th - July 7th for the highly possible annual Quill King Salmon shoot out for serious hard core fly fishers who wish to mix it up with Quill's creator?
Oh yeah we will be playing and partying and throwing flies about as insane in the membrane as humanly possible my friends? It's only eight weeks until the Pioneer Alaskan Wilson family hosts this literary/flyfishy week of taking the author to task in regard to his fly fiction and general give a shit attitude...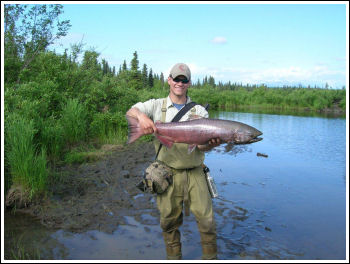 So come on kids, we have room for a few more. The best King Salmon fly fishing in the universe period, small streams packed with kings! Great food, soft clean warm lodge and expert highly trained guides.
Lake Marie, the Wilson family John, Mother Marie, David all first class no compromise. Strongly consider this true Alaskan wilderness fly trip 100 miles form Anchorage and one billion miles into the shimmering slippery membrane of Fletcher Quill's reality, come on lets play in my house Baby! June 29th - July 7th deep Alaska me and you
Written by Dan Fallon © 2012