Dan Fallon Fly Fishing Article Column 11 2011
Alaskan Fly Fishing Guide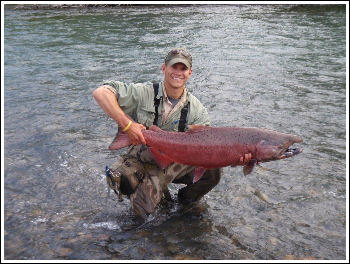 This past summer included fly trips to many great trout, salmon home's from Yosemite National Park in California to Lake Marie Lodge deep in still wild Alaska. During my 7 days at this true wilderness fly lodge www.lakemarie.com I was guided by Head Guide Matt Amundson a fellow who will be graduating with a degree in nursing and a wealth of experience making sure fly fishers from around the world had plenty of time and no excuses catching and releasing King Salmon and Rainbows with Arctic char and Silver Salmon in the daily mix.
We hit it off right away as I would probably be his easiest client of the summer. It was Matt and I solo 7 days playing and roaming many wonderful rivers and streams. One gets to know another sportsmen a little bit in 7 days. Matt was well schooled in many of the necessary but tedious aspects of hard core world class fly fishing. His skills reading water, currents, safety first, knot tying and laughing his ass off were impressive.
He and I stalked many great fish including several days working his Mouse Pattern which I loved, amazing fun! I was an easy ride that week as he mostly changed fly patterns and exchanged stories. Still in his early twenties this Alaskan Guide knows where the fish are and how to catch & Release them until your sore arms fall off my Brothers! I asked Matt to describe his two favorite client situations at Lake Marie Summer 2011.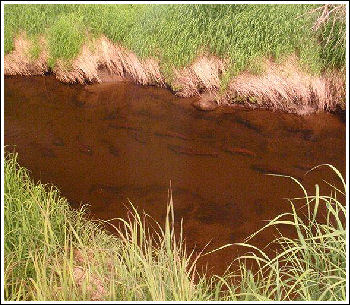 TROUT EXPLOSION
Three trout fishermen father, son and son in law nice men. After spending a day on a picturesque stream we discovered one fly pattern that the trout were keying on! A Muddler Minnow Pattern? Later that night I tied a few variations of that same pattern incorporating various amounts of Deer Hair, dashes of Flashabu, and strips of rabbit.
The next day we visited that same stream and completely dominated with my Muddler Variations! It was incredible how many trout we were ripping out of the water! In one very small section of stream we pulled out twenty big Bow's our luck continued and we located a few more streams like as the one described.
By the end of the day, wading three miles our count totaled 80 Rainbow's! A smashing success. At the end of this trip I could see the hunger for fly fishing growing in the Son's eyes... Previously to the trip he wasn't very attracted to the sport.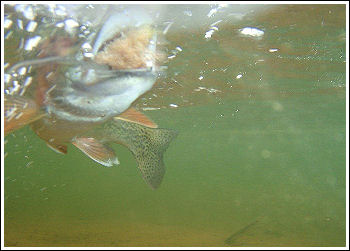 Fly tying skills and the ability to read exactly what is happening witch Hatches, currents, dealing with clients degree's of understanding the basic's from casting lines to setting hooks and letting big fish run and get tired. Dealing with often big ego's implanted in men who spend limited time on the water each year and have unrealistic expectations!
Even in deep Alaska one can encounter slow days when the water and weather and fish ain't going to play Pilgrims! Solid seasoned guides really deal with two things constantly aside from changing clients. Wilderness water conditions and mostly male ego's! I guided for many years in California and understand the life of a fly fishing guide. Matt is a intelligent, calm, cool, very funny man.
Kind of guide you never forget! Thanks for a great trip into deep Alaska and congratulations on becoming a nurse!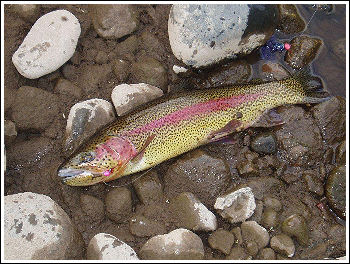 KING SALMON SHOOT OUT
Of course it is going toe to toe with King Salmon where we separate the hearts from the maybe I could take up Golf reality checks in deep Alaska woods. In my sporting life I have watched up close grown men who believed they had the bag of tricks and experience brought crying to their knee's when fifty pounds of wild King takes off at mach 10 and rips his arm and ego completely off the body leaving a train wreck of self imagery that a life time will not erase!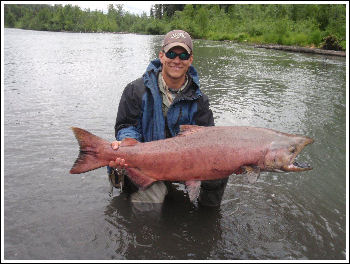 The next bunch of fellas was a group of three older gentlemen. One came for a good time, the next came to make some great memories and catch a Monster! The last guest made it a point to make fun of the shorter man all week. I wasn't sure if he came to fish or give his friend crap all week, hah!
We had a few rough slow days and then here come the clouds with spots of sunlight and the Kings are on! The shorter guest after getting whacked by flies and sustaining much verbal abuse ended up landing his Monster King 40 lbs. The fight began when he thought he had caught a big log. I saw his floating fly line start running down stream, I said, "You better hold on my friend!"
Finally after many runs we netted and landed his Monster, sweet revenge indeed!
Written by Dan Fallon © 2011