African Fly Fishing
They glide gently among us mortals as if lighter then air. Spirit barely touching solid ground, one might for a moment imagine these ethereal creatures are but figments of distant worlds unknown!
Upon first contact with African fly fishing guide Cindy Garrison one cannot help but be taken back by her otherworldly presence. In these predictably boring politically correct times. It is supposedly off limits to address such obvious manifestations.
I plead guilty to all counts and throw my poetic metaphor oriented self upon the alter of ignorance... One must not be fooled by this striking physical presence! Cindy has literally circumnavigated the sporting world on her way to establishing a world class fly fishing venue within the exotic wildness of Botswana Africa. The sights and sounds of Africa are almost as alien to Marin County Californian's as politically incorrect outdoor writers.
Thanks to Cindy's father who owned a ranch in Oregon where she fly fished and hunted. Not much time was spent hanging out at any of the ultra swank Marin Shopping Malls trying on new lipstick. Her dad having fathered four daughters and no male sporting companions. Suddenly realized Cindy was up for any and all things outdoorsy.
Time spent throwing bugs upon rushing waters of the fabled Rogue River, Klamath and the Williamson River's set the stage. " From the time I was four years old, I was hooked on fly fishing! I loved the hunt- how I could sneak around behind the smallest boulders and drop my Yellow Belly Humpy oh so lightly in the water and wait for a strike- it was so exciting! "
"During the school season, I would spend time at the casting ponds in Golden Gate Park in San Francisco. There I met many legends of the sport and realized I could do this as a profession - I was thirteen at the time and had a long way to go in school- The idea never left my mind." While studying business in college which became tedious and boring. Cindy cut school one day and attended the famous San Mateo Sportsmen's Show.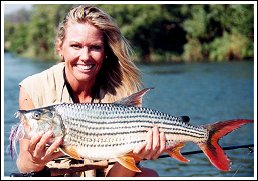 Most young woman raised in the lifestyle of fabled Ross in Marin County California. Would probably not attend an International sportsmen show and seek out the Alaska Outfitter who worked with her father. Then query him to consider hiring her for a rough and tumble position like professional fly fishing guide!
After spending several successful years guiding all over Alaska. The call of the other last great wilderness with the last remaining herds of old world wild life beckoned... Those who might be inclined to paint a lightweight profile of Ms. Garrison would be better served to understand.
She spends the other two thirds of her working year either guiding or hunting with the world renowned Rann Safaris. Within this atmosphere of constant adventure and danger, the strongest men are taxed! Most women would consider African bush work rather demanding. Unless of course you have been touched by and nurtured by The Goddess of the Moon, the Hunt and all Things Wild...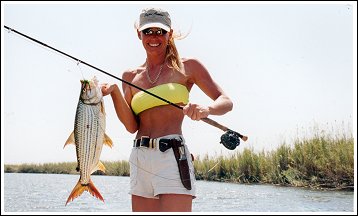 Cindy Garrison is responsible for introducing the most experienced world class fly fishers to Botswana Africa for once in a life time Tiger Fly Fishing adventures. "Imagine your fishing in Jurassic Park- That's how you will feel fly fishing Africa, You are sure to have the fishing safari of a life time, casting a spell that will draw you time and time again."
The idea of casting to true fighting fish rarely if ever fished? While listening to Elephants and watching out for crocodiles are an interesting and formidable formula. It is easy to close one's eyes and imagine Cindy waving so long as her jet boat departs for parts unknown. While your sitting on a not so large rock surrounded by crocodiles and hippos.
Loudly serenaded by troops of screaming howler monkeys and wild parrots. Your only weapon, a seven weight fly rod and your imagination! Are you up for a little heavy weight, extreme fly fishing cowboy?
Contact Cindy Garrison at Safarianglers@yahoo.com or rannsafaries@yahoo.com
Tel: 267-661-821/Fax: 267-660-379.